Professional trumpet player, Practising music professionally for the last 30 years, currently from Leighton Buzzard, UK, Stephen Gibson is this month ToneGym Hero!
Who are you?
My name is Stephen Gibson and I live in Leighton Buzzard Bedfordshire in the UK with my wife and two children. One of which is only 15, takes size 10 shoes and is now 6f.and still growing..which makes me a bit worried.
I'm 53 years old and I've been involved in music professionally for the last 30 years or so.
The first instrument I learned was the trumpet. My mum who was a school teacher was looking after a cornet for a friend, and for some reason, I just really liked how it looked and the smell of the case etc, and just wanted to play it.
Originally I was taught by a tuba player who played in the Brighouse and Rastrick Brass Band.
I did all the Associated board exams growing up and played in the local youth orchestra in Rochdale where I lived. I also Learned piano as a second instrument. I played in a few bands in my teenage years and also played in a few pop brass sections, in the good old days when they were really popular.
I studied trumpet at the London College of Music and graduated in 1990. I played trumpet professionally for about 5 years but found myself getting more work programming music and composing and ended up working at Stanley House Recording Studio in London from 1995 onwards.
I've done a lot of different type of work, had various publishing and recording deals and worked for most of the main record labels. I also worked in music for TV and Ads and make Production music for KPM, Universal etc.
I had a great time in London but traded it in for a more serene way of life when my son was born. .I now work from home with a small studio in my converted basement in Leighton Buzzard UK.
Tell us one interesting fact about yourself
I went to the same school as Lisa Stansfield in Rochdale where I lived and when I was 15 I played on her demos at Drone Studios in Manchester that got her the record deal with Rocking Horse Records and then with Arista. I went on to play in her band up until 1995, I played on the first 3 albums and did a couple of world tours, straight out of college. I was extremely lucky.
It was a very bizarre time and through her producers who were also brass players I got to play on some of my hero's records who would come over to record at 'GracieLand' Studios in Rochdale.
Dionne Warwick and JT Taylor (from Kool and the Gang), would fly over and then at the end of the day we'd all end up down the pub at the Cemetery Hotel in Rochdale.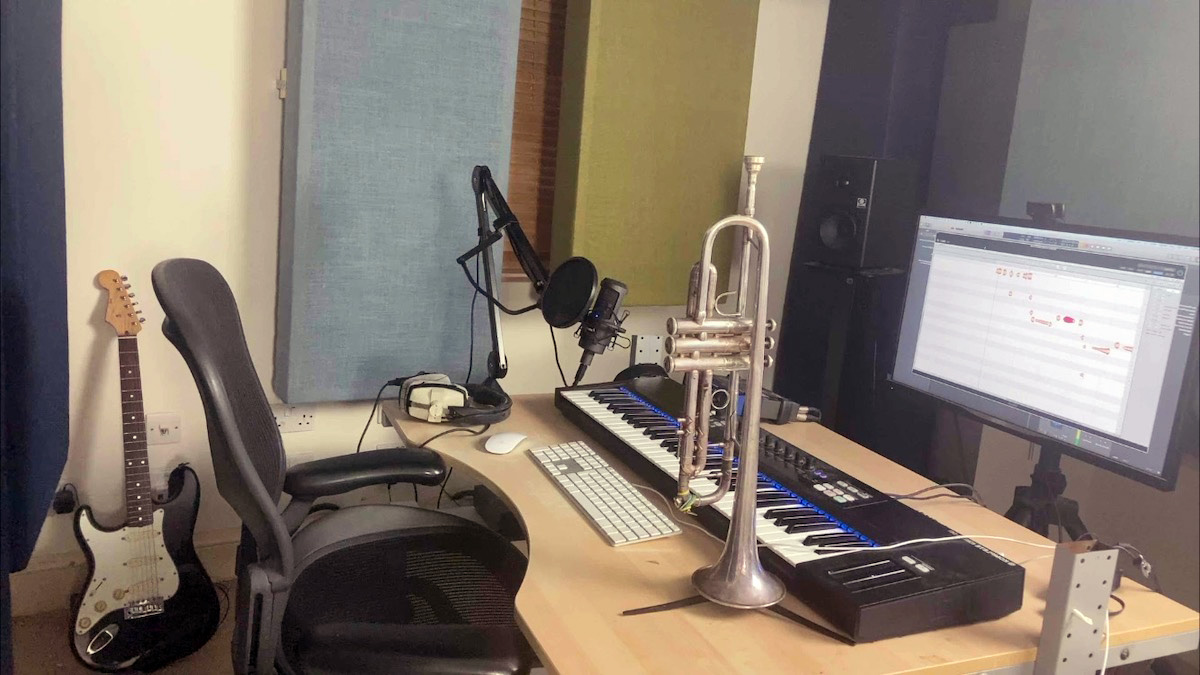 What is your favourite ToneGym feature?
I like the Gym and the Tools section. I find the Scale analyser good because I'm fairly hopeless at Scale Spy. Some of the scales I've never even heard of and sound like some sort of surgical procedure. I'm determined to know them all though. It's just going to take ages.
One music piece that inspired you to be a musician?
That's a difficult one, there's so many, and I'm so old…
Growing up, I was really into Pink Floyd and there's something about their records that just sort of stay with you. Their music is also very cinematic and it reminds me of my formative years, dreaming of being in a band.
If I had to pick just one track it would be 'Breathe (In the air)' from Dark Side. The first band I played in when I was 14 called 'Lack of Sophistication' did a cover of 'Breathe' at Rochdale beer festival (I know..at the time we thought it was a cool name for a band but we were wrong).
There's no way we did that track justice but that's the earliest memory I have of the thrill of playing to a live audience. Happy Days
Who or what is your biggest influence?
Well there's lots of records of course, but I suppose the biggest influence was Jerry Hey who used to do all the cool brass arrangements on most US records in the 70s and 80s and 90s.
Most of the well known ones were with Quincy Jones and Earth Wind and Fire. But as a young trumpet player, Jerry Hey and Gary Grant were our idols and who we all wanted to be.
Jerry Hey Horns: Don't stop till you get enough
Through some of Lisa's contacts, I got to meet him when he came over to do the Roger Rabbit movie soundtrack. And years later we played on the same album. That was a dream come true.
Any habits that help you stay Inspired and Creative?
I tend to just treat everything as a job. Steven Pressfield's book 'The War of Art' was a big help for me understanding how to go about this. So I'm fairly routine, I suppose I exercise now a lot more than I used to. Eat well and all that stuff I do TM every day.
New additions to my routine are SoundGym and ToneGym. I like to get the ear training done at the start of the day. There's so much great music on tap now. I listen to stuff on Spotify, any tracks I like, producers I like, mix-engineers.
I just listen out for great sounding tracks, enjoy them and try to emulate and reverse engineer them. Any genre is good for me, if it's crafted well, I'll just listen to it and admire it.
Tell us a bit about your workflow when making music?
I've always used Logic as my DAW, for as long as I can remember even when I was on Atari and it was Emagic. I'm not precious about sequencers, but I just stuck with what I knew.
So I do all my work in Logic. Any ideas for melodies or vocal ideas I sing into the memo app on my phone usually when I'm working on a track in Logic, so I don't forget them and I can use them later on.
I use Melodyne a lot for making any new parts out of any audio file… amazing app
I bounce and commit all software instruments and tracks to audio. I find it helps with decision making because I tend to mix as I compose most of the time.
It's amazing how things have changed. When I was at Stanley House in London we had a J Series SSL, now you can do everything ITB.
The musical instrument you have special feelings for?
I really love classical guitar. When I started to do more writing and programming that became my job and I stopped practising the trumpet because it was really loud and just wasn't practical and wasn't a priority.
But I still missed the practice, so I started learning classical guitar because it's quieter and not as exhausting.
So I got myself a great teacher, Richard Wright from the Yehudi Menuhin School who is the Don of guitar technique and started studying with him. That was nearly 20 years ago and I'm still going strong…still a terrible player, but I love it.
If you want to learn any instrument finding a teacher who has the technique nailed down is a good move. If you ask any great player they'll always tell you the key to playing well is playing relaxed. So the guitar isn't a struggle now and It's a joy to play.
What does the future hold for Stephen Gibson in the music industry?
I'm launching a podcast in April called 'Sonic Cuts'
It's about music strategies for content creators, online marketers etc., so I've been busy getting that together. It's a pre-cursor to a music production library I'm putting together. At the moment everything is all over the place but it's gradually coming together
It's been a pleasure to do this. ToneGym and SoundGym are a beautiful thing. Thanks and Keep up the good work!