Chorister, songwriter, aspiring multi-instrumentalist, and home recording artist, currently from San Jose, California. Victor Wilburn is this month's ToneGym Hero!
Who are you, and Where are you from?
I am Victor Wilburn from California in the USA. I grew up in the heat of the San Joaquin Valley (Fresno, to be precise), but have been living in various places around the San Francisco Bay Area since I moved up here to go to college in 1987.
I currently live in San Jose with my wife, two kids, and two cats. I met my wife when our two choirs did a joint concert together and we've now been married for over 27 years. Our older son is in the Animation and Illustration program at San Jose State University, and our younger son has just applied to a few different music composition programs in California and is interested in making music for video games.
How did you get into music?
I can't pinpoint some grand precipitating event, but I certainly have some early memories I can recount.
There were seven of us children growing up, so a lot of my musical influence comes from my older siblings, whether it was my older brothers playing Led Zeppelin and Elton John or my older sisters playing Queen. Or even my father playing Bing Crosby or Buddy Clark, though I didn't appreciate those as much then as I do now (especially being a baritone!).
But my dad wasn't completely opposed to modernity either – like the time he brought home an album of classics played on a Moog synthesizer. And sometimes the album covers were as interesting as the music!
I played clarinet in the 3rd grade and discovered I had an aptitude for music. I also remember wandering around the yard on a rainy day, probably around 8-10 years of age, composing a song called "It's Really Coming Down". I can still recall the words and tune.
But school went in more of a STEM direction for me from there, and my academic schedule didn't have room for a band or the like. Instead, in high school, I decided if I was going to get back into music, I was going to have to do it outside of school.
I picked up a harmonica and taught myself to play along to blues records. When I got to college, I would often annoy street musicians around Berkeley asking to play with them, and sometimes they would even let me.
But that wasn't enough, so I picked up a guitar and a Beatles fake book and started to learn to strum some chords. I wasn't very disciplined, but over the years, I managed to become a decent strummer, if not much more than that. In the meantime, I started getting more serious about vocals, took a voice class at community college, then joined the choir there.
When we first had kids, I had a long period where I didn't make time for choir, but in recent years I have come roaring back and have now been in a local civic choir (the Santa Clara Chorale) for five years. It's great because it frequently affords the opportunity to perform with professional musicians (e.g. the San Jose Symphony) or at famous venues (e.g. Carnegie Hall this June).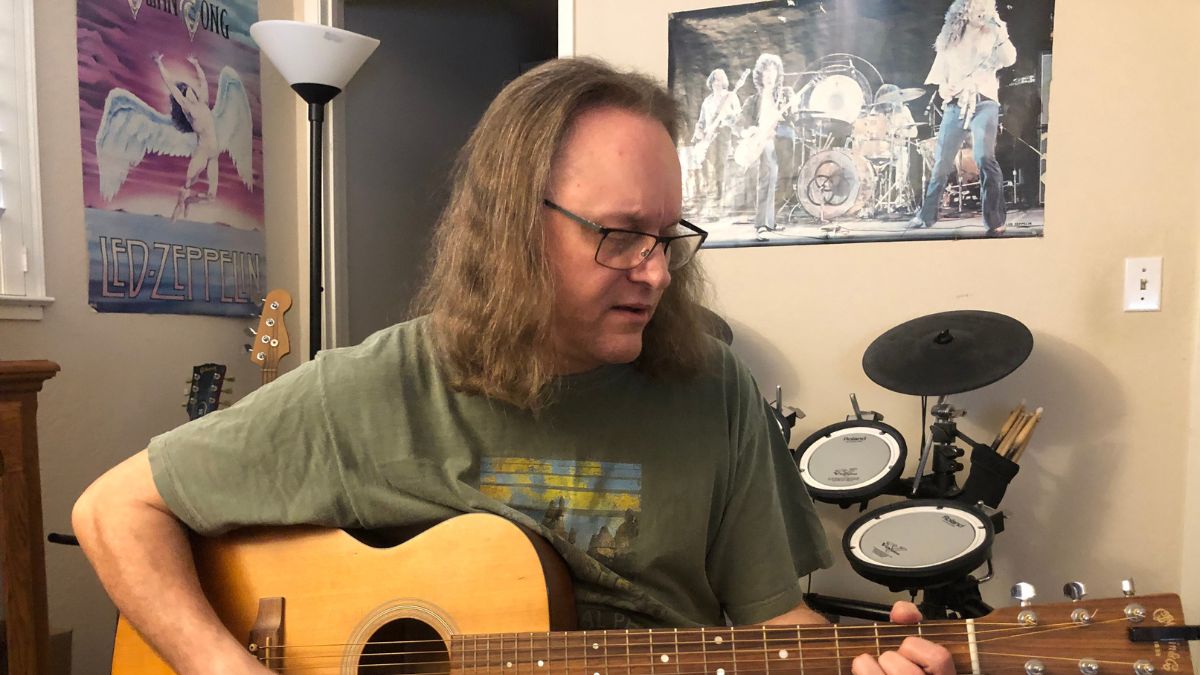 I retired nearly a year ago from a career in software engineering, planning to focus on my musicianship with more time and discipline. Joining ToneGym and doing a workout every weekday is one part of that, but I also practice guitar for an hour or so, piano for about 30 minutes, and music theory study for about 30 minutes. I also throw in some drums from time to time.
I've always been interested in songwriting and home recording and have done a fair amount of it in an amateurish fashion, and I'd like to get back to that once I have spent some time focusing on skills improvement.
What do you like to do for fun outside of working on music?
My main hobby besides music is Dungeons and Dragons, where I prefer to play the role of Dungeon Master rather than one of the characters (though I will do that as well).
D&D tickles my fancy in many ways. I've read a lot of fantasy and mythology, and I get to regurgitate all my many influences in the stories I write for the players and see my world come alive through interaction.
There is also a math and probability aspect so that I can geek out on that. I also appreciate well-written formal language (especially the extreme challenge of turning informal human language into formal language), so I geek out on the rules as well.
And there is a social aspect not unlike making music with others. It's a shared story to which everyone contributes, and it teaches teamwork, problem-solving, and thinking on your feet.
I also enjoy the process of coming up with the stories I write. I've learned I have to give myself time to percolate ideas as they slowly gel together into a coherent and compelling story.
This need to trust the process is not at all unlike what we need to do in music as well. Keep regular practice going, and trust that it will result in improvement over time, even if that might not be obvious on any given day.
What's your most useless skill or talent?
I'm not sure...I can wiggle my ears. I'm not inclined to spend time on skills I consider useless. Or perhaps I flatter myself that all the things I spend time on are useful. ;)
What inspires you to keep making music?
I guess it would be achievement and improvement. I like getting better at stuff, and it gives me hope that someday I might be able to write and record high-quality music.
It can also help to see people close to me getting better, like the long-time friend who just recently started to take guitar more seriously and has some complementary skills and strengths to mine. Or my son deciding to study composition – I want my knowledge to keep up with his so we can talk shop!
In an ensemble, there is also an element of service. For instance, in the choir, I know that if I learn the music as quickly and as well as I can, I can help anchor my section and, to some degree, the whole choir and help us perform better as an ensemble.
But really, it's the results. Making good music is fun and it sounds good.
If you could sit down to a session with any artist, who would it be?
Well, I could certainly talk about some of my favorite well-known musicians, like all the usual classic rock greats, but actually, when I fantasize about working with musicians, it's more often about veteran-session musicians. Folks like Waddy Wachtel, Carol Kaye, or Smokey Hormel. Consummate professionals. Of course, some of the more well-known greats started out as session guys as well, like Jimmy Page and John Paul Jones.
I did have one brush with fame performing with one of the greats, though. Sort of. Once, my brother and I went to see Buddy Guy at a small auditorium – probably no more than 1000 people. He did John Hiatt's "Feels Like Rain" (this was soon after Buddy released his album of the same name), and invited the audience to sing along.
My brother and I did, with gusto, to the point where Buddy looked in our direction and asked who was singing. The people around us pointed us out. He told us something like "Come on, now, you got to FEEL it", and proceeded to demonstrate.
So, yeah, I got a lesson in singing the blues from Buddy Guy himself.
Any habits you have before starting a session?
Not really. If it's a practice session, nothing. If it's a jam session or rehearsal of some sort, I like to be prepared. If it's a performance involving singing (e.g. a choir concert), I don't like to eat too close to call time to avoid burping and heartburn during the performance.
What have you been working on lately?
Since retirement, I have been pretty laser-focused on improving my skills and gaining knowledge, having spent the first half of my life kind of half-assing it. :) Before turning some focus back to writing and recording, I want the skills to do the songs justice.
If you could pick one, what would be the theme song of your life?
That's a really tough one. Certainly, lots of songs have bits of powerful insight and articulation, and some of those bits might resonate with me personally, but one single and entire song that speaks to what I am about? That's tough.
Then it occurred to me, wouldn't the songs I write myself, though they may not be as good as those from the great songwriters, come closest to representing me? So, although it may be considered gauche, I am going to say it's a song I wrote and recorded called "Bigger Than Jesus".
This song gets to a lot of what I think is distinctive about my personality. A certain irreverent and sly sense of humor and iconoclasm. My insistence on simple, clear facts over dogma and other received knowledge. And my complicated attitude towards religion and religious thinking as an apostate former Catholic. And of course, it's an homage to John Lennon, my favorite Beatle.
What's your favorite musical instrument?
It's hard to choose. I always want to be able to do everything!
My best instrument is probably voice, but the guitar is really fun and I'm getting better at it. It's such a rich instrument, even just acoustically, with all the different possible voicings and approaches you can take. Then electric guitar adds even more possibilities with different sounds you can get with amps, pedals, etc.
Drums are tons of fun, too, though I haven't put much focus into them thus far.
What's your favorite ToneGym feature?
I think the gamification of the service is really effective in keeping me motivated and engaged. To go along with that, I like knowing what percentile I'm in for each game and overall.
It's not because I feel a sense of competition with my fellow travelers, but I do like knowing how I measure up, and I like having a progress metric. Scores by themselves are meaningless unless they are relative to something.
What does the future hold for Victor Wilburn?
After nearly a year now of focusing on skills improvement, I hope to start to put more focus on writing and recording as the year progresses. But even that will require additional skills improvement – for instance, I really need to up my game on recording and mixing.
I did record a cover of Cyndi Lauper's "Time After Time" with my wife on vocals a few months after I retired, but I recognize that it's pretty flawed from a recording and mixing standpoint, even if my musicianship was already showing improvement by that time.
I also want to shift some focus to bass and drums once I've gotten to a good place with guitar.
Meanwhile, it's going to be an exciting year for the Santa Clara Chorale. In addition to our normal concert schedule in March and May, we are supplementing the San Jose Symphony's choir for their performance of Orff's "Carmina Burana" in early June, then traveling to New York in late June to perform Fauré's "Requiem" at Carnegie Hall.
Follow Victor Wilburn on Soundcloud, Spotify, Amazon Music and Apple Music:
---