Musician, professional video editor and the founder of Musician's Addition Youtube Channel, Reesa Myers is this month's ToneGym Hero!
Who are you?
I grew up on a small mountain in Colorado. I always knew I wanted to be a musician. I started with choir at church camp and elementary school. I started learning the flute in middle school and shortly after, I wanted to play alto saxophone. In high school, I felt honoured to be able to play in the honor band and go to multiple band camps. All was so much fun, but also a lot of work. Back in the day, I earned some music awards and ended up with a full-ride scholarship for music. I wanted to teach music, but I got scared when I heard the schools around me were all cutting the music programs, so I ended up randomly changing my major to something else. I ended up getting a major in music.
But now, I still have a strong urge to teach. So! I thought why not take it to Youtube where everyone has access to the lessons? Kids and adults can play along, hear explanations, and even ask their questions. A few people wanted to just hear me play, so I added a performance series on my Youtube channel as well. I wanted to keep the main goal of learning music, so the performance series only hits once a month.
Tell us one interesting fact about yourself.
I'm actually a professional video editor. I fell in love with the video world by accident too. During the time I was debating on staying in the music program or not, my friend asked me to tag along and check out a live show at our local PBS station. I agreed and while I was just hanging out, one of the crew members pointed to me and said "You! On camera!" Me working on camera? I've never done anything like this... But sure. Why not? They quickly went over how to operate the camera and I would be directed on what to do.
What a hoot! I fell in love with it! Talk about an adrenaline rush! If you were to make a mistake, it's live television, so everyone would see it! I kept coming back to the station every day. I volunteered there for several years before getting paid to work the show.
I ended up with PBS for 11 years. But not only did I work on their shows, but I worked at NBC and was head editor at The Professional Bull Riders. I now make commercials for different companies; even acting for a few of them.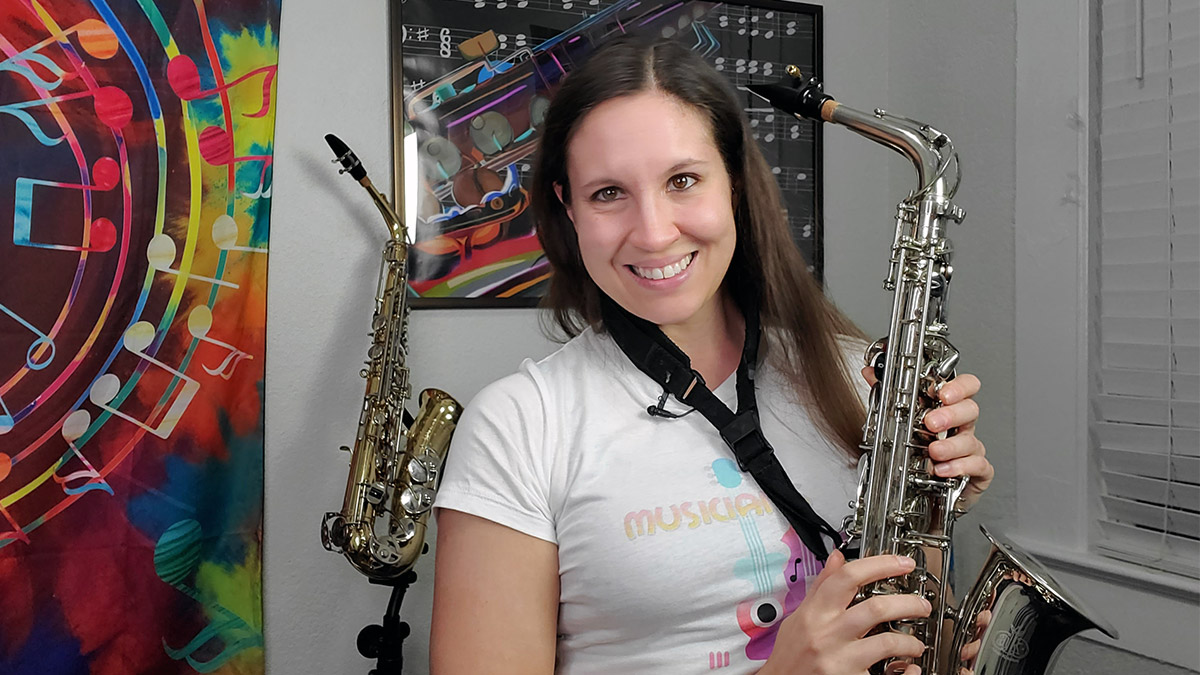 As much as I enjoyed the video world, music still has my heart. I believe I needed to go through the switch from music to video so I could have the skills to create my online music lessons. It feels like it's destiny. I am at the right place at the right time.
What is Your Favorite ToneGym Feature?
I'm not going to lie, I love it all. If I'm choosing one though, it would be the games and how they are set up. I've tried other aural skill practice programs and they felt like we started with nowhere and went nowhere. I love that ToneGym starts you off on Level 1 on the games. And of course, the more you achieve, the higher the level you go. It works us into harder things and you can see how much you have accomplished and learned.
I also love the learning area. I just completed the music theory basics and I'm now working on Complete Music. I love it! I feel like I'm back at school. I love music and I love learning. I have both in the same place.
Whan did you start the "Musician's Addition" youtube channel, and how is it coming along?
I started 'Musician's Addition's' Youtube channel in March of 2020, right when everything started to close down. I actually wrote this 'show' for PBS back in 2012. I used to work there so I had some of the connections but I was too nervous to turn in my proposal, so 'Musician's Addition' never made it to their desk. I decided to alter it a little and turn it into a Youtube channel instead!
I took time to plan everything out so everything could tie in together. It would start with the Theory class. Then you would implement that lesson into our flute lesson. Then we would work on our aural skills in relation to the theory lesson. I've now added a lot more, so we have Music Theory, Flute lessons, Alto sax lessons, aural skills, conducting courses, and a performance series. I'm just about to add a new fun series about the adventure I took trying to repair a flute I bought from eBay.
Musician's Addition's channel is doing great & it's growing every day! I make sure to answer all questions and I take requests very seriously.
One music piece that inspired you to be a musician?
I can't think of a particular piece that inspired me to become a musician... I remember at a young age, I made the choice to become a musician. I just had fun in the elementary choir and I loved playing the instruments. Making music was the inspiration itself. Participating in music felt like home, family, and friends.
There was a point I was so frustrated that I wanted to quit the band. My dad knew that wasn't the best decision so he took me to the Air Force Acapella choir. The whole time he kept nudging me and saying, "This would sound great with a flute." I don't think he knew what acapella was. Haha! But I agreed and I'm glad he took me there.
There is a piece today, though, that continues to inspire me & to become a better musician. The piece is long but beautiful. It's called Silva Fantasy composed by Eugene Magalif.
Who or what is your biggest influence?
My biggest influence is my old high school band teacher - Ms. G. She made me feel confident about playing music, but yet still challenged me. She opened up so many doors for me and guided me through some wonderful opportunities. I feel like she was the start of showing me what potential I hold. She was a wonderful person, a great teacher and mentor, and a friend. She always believed in me, and though I haven't seen her since, I know she's still cheering me on.
Any habits that help you stay Inspired and Creative?
I am always learning. There is no way not to be inspired or creative when you continue to learn. I take classes, even though I'm no longer in school. I'm currently learning music composition and beatbox fluting. So now, I am excited to be writing musical pieces and once I know how to beatbox with my flute, I'm hitting the town! I plan to play at open mics and hopefully spreading some new inspiration to others - especially about the flute.
It has the reputation of only playing classical and the flute is so much more than that! I'm spreading the word the flute is awesome and has so much more potential than being restricted to classical music.
Tell us a bit about your workflow when making music?
When it comes to my workflow in regards to music - everything is done strategically and is planned. I'm very organized on the things I need to do. It starts off with choosing the piece. Then if I need other players (I usually do duets, but sometimes it's trios), I have to contact those I want to play with the see if they are available and if they want to partake in the song. Once I have my players, I assign the parts (I make sure they are ok with those parts as well).
We like to be in theme so then we figure out outfits and deadlines. From there, we all have to take time to practice our parts. I usually throw my music into Musecore so I can practice along with the metronome & my part. I love it! Then we record our parts. I put it together (video and align the audio). Since I'm not very good at mixing and mastering, I'm actually partnered up with an independent recording studio, DAPlyfe Records and they mix and master our tracks (just to the performance series).
And when it comes to the lessons, I plan everything way out in advance. I usually shoot in bulk, then edit as I can, and I schedule things out. I don't want any lessons missed. Hopefully, everyone is practising every day and I don't want anyone following my lessons to miss anything. This is important.
One musical instrument you have special feelings for?
I love all the instruments, but the one that holds a special place in my heart is the flute... particularly my first flute. My mom bought it at a yard sale for $75. Learning on it, I thought I was just not getting it. Come to find, my flute was trashed. It needed an overhaul. It took the flute tech an entire year to fix and with the amount we spent on it, we could have gotten a brand new flute. It was a cheap, dirty-looking student Bundy.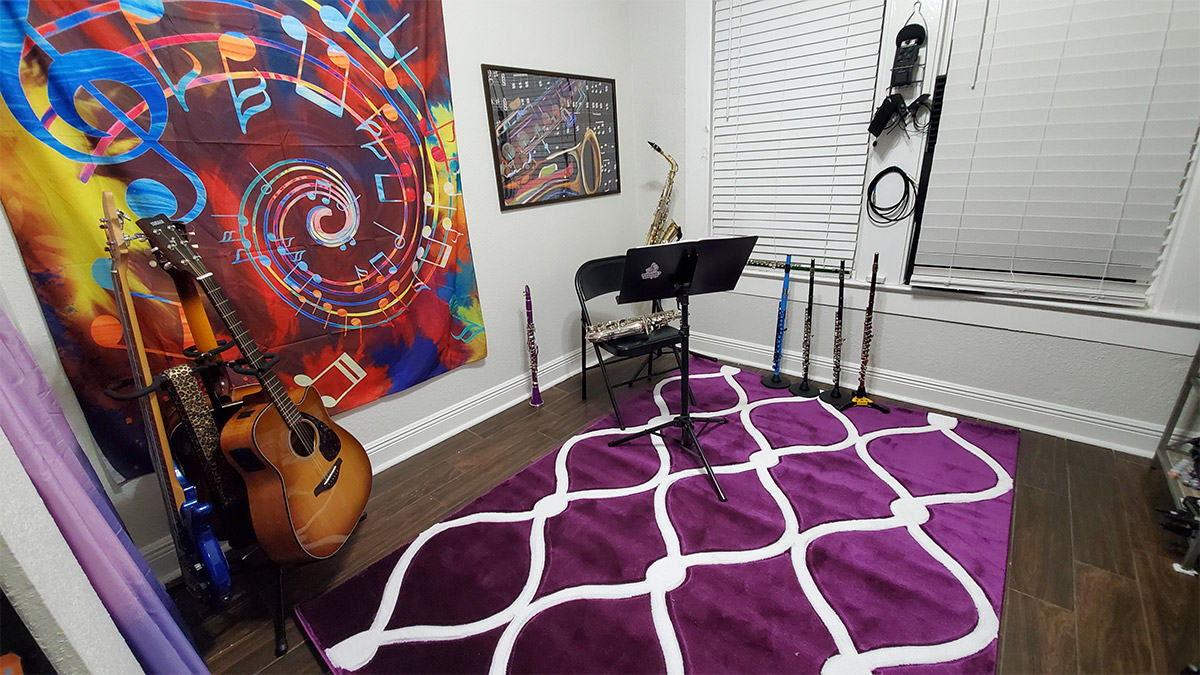 That flute has been with me through so much; All-state bands, band camp, a little bit of college, but I had to sell it to help pay for my professional flute. I tried to buy it back later but apparently, the person I sold it to loves it as much as I do. Who could blame him?
What does the future hold for Reesa Myers in the music industry?
The music industry holds great things for me! Though my main musical aspect is not my own performance, to me personally, it's about sharing knowledge and teaching others music. I believe every person should have the opportunity to learn music. That's why my channel is more about teaching music - music theory, flute lessons, alto sax lessons, and aural skills (for beginners).
I have a much bigger thing coming. What I have going on in the works are online music courses. These courses will offer music theory, aural skills, and all instrument lessons, and later we will add songwriting, composition, and other music-related courses. Now here's where our lessons will be unique. They are video lessons, similar to the Youtube lessons we currently have, but they'll be interactive video lessons! You can learn more and understand more.
You can learn in your own time (even 1 am if you want! Though your neighbours might not be happy. haha!) and take as many lessons as you want in the day! And aside from the lessons, I'm working on an instrument donation program so I can help get instruments to the kids who cannot afford them. Long story, kinda short - I'm trying to bring music to everyone and I know I can achieve! So make sure to follow Musician's Addition on any of the social media platforms so you know when our lessons and donation program are live!