Musician, professional video editor and the founder of Musician's Addition Youtube Channel, Reesa Myers is this month's ToneGym Hero!
Who are you?
My name is Reesa Myers, I grew up in a small mountain town in Colorado, surrounded by the beautiful Sangre DeChristo Mountain Range. Since childhood, my desire to be a musician has been strong. My music career began with learning the flute in middle school and shortly after, picking up the alto saxophone. Later on, in high school, I earned the first chair in the honour band; taking on a leadership role was a responsibility I was proud to take on. My high school music career also included excelling in multiple-band camps and earning many music awards. As a result, I was offered a full-ride scholarship for music! My high school music career was much fun with much work—but I loved it!

My desire to be a music teacher intensified as I was approaching my college years. However, witnessing many public schools cutting the music programs, future employment in music education seemed dim. With this in mind, I decided to change my major to another degree and minor in music.

Years later, the urge to teach was still a strong presence within me. A thought came to mind: Being proficient in video technology and music, why not combine them both and take it to the YouTube platform. This was a wonderful way to reach many people, giving them the opportunity to have easy access to music lessons. And that is exactly what I did.

Musician's Addition is a YouTube Channel offering lessons on music theory, flute, alto sax and aural skills for beginner to intermediate students, of all ages and skill levels. Advanced lessons and other instruments are in our future as well.

Musician's Addition is a place to learn all the aspects of music in a fun, clear, professional, and at your own pace classes. The classes include lesson plans, play-along times, explanations and examples, with a weekly format for students to ask questions.

Also, incorporated in the classes is the Performance Series, a once-a-month event showcasing full musical arrangements for the students to sit back, enjoy and be inspired— icing on the cake. Musician's Addition is a dream come true for me with the intention to inspire others to pursue music.
Tell us one interesting fact about yourself.
One interesting fact about myself is I am a professional video editor. When I was debating whether or not to stay in the music program, an interesting turn of events occurred. One day a friend asked me to tag along to check out a live show at our local PBS station, I agreed. While hanging out on the set, one of the crew members pointed to me:
"You! On camera!" he said.
"Me, working on camera? I've never done anything like this, but why not?" The crew quickly reviewed how to operate the camera and directed me on what to do.
What a hoot! I fell in love with it! Talk about an adrenaline rush! If a mistake was made, it's live television, everyone would see it! I kept coming back to the station every day to learn as much as I can. After several years, my position changed from a volunteer to a paid position.

And as the story goes, PBS was my employer for eleven years. But my work also extended to NBC, and as head editor for The Professional Bull Riders. Presently, I am involved in producing and acting in commercials for a variety of companies and businesses.

As much as I enjoy the video world, music has my heart. The journey of switching from music to a video career was in preparation in developing the skills needed to create my online music lessons. It feels like it's destiny—being at the right place at the right time.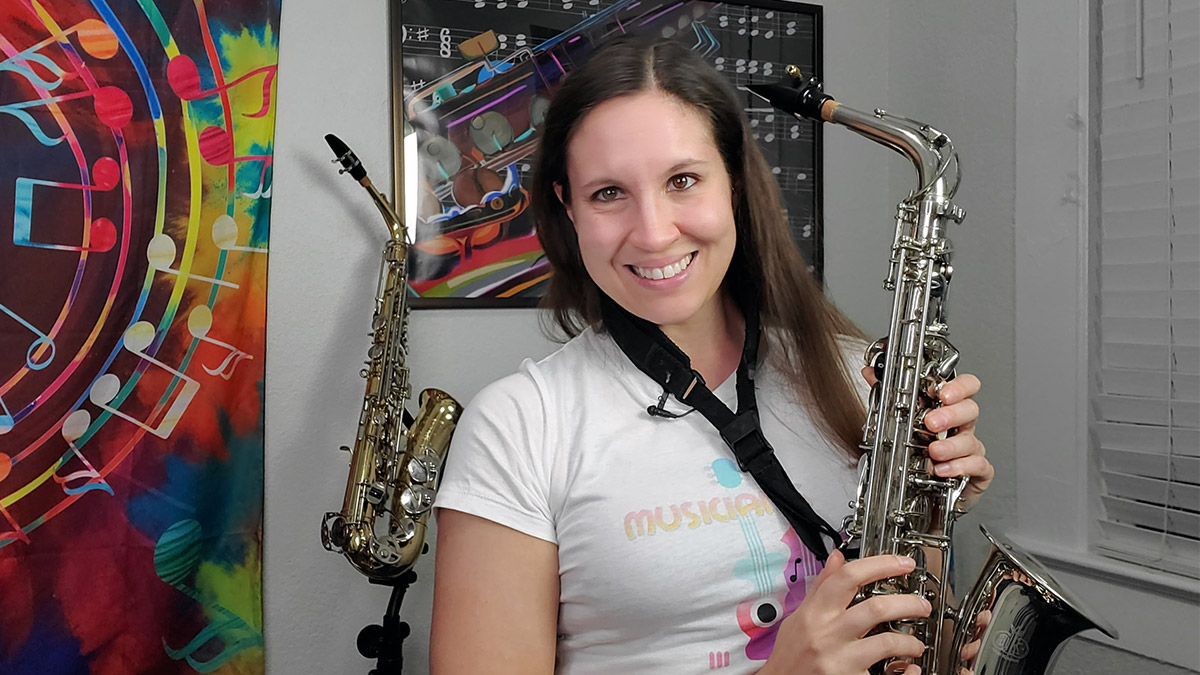 What is Your Favorite ToneGym Feature?
The truth is, I love it all. If I had to choose one feature, it would be the games and how they are set up. I've tried other aural skill practice programs and they all seemed to start from nowhere and end nowhere. ToneGym starts with Level 1 games and the more you achieve, the higher the levels, creating motivation to continue. This is a wonderful way to acknowledge how much has been accomplished and learned.

The learning area is another aspect I enjoy. Recently, I completed the Music Theory Basics and moved on to Complete Music. Love them both! When I am on ToneGym, I have feelings of being back at school and loving the subject matter, music.
Musician's Addition's YouTube Channel started in March 2020. This was the time when everything was affected by Covid and closing down. Musician's Addition was originally written for PBS back in 2012. Being too nervous and insecure to turn in my proposal, 'Musician's Addition' never made it to their desk. Since then, I altered it and turned it into a YouTube Channel instead!

It was important to me to plan carefully in order for all the classes to be tied together and have a nice flow. It starts with the basics, Music Theory, and moves into implementing the information into the instrument lessons. Next, the aural skills will be incorporated into the theory lesson. Currently, the channel includes: Music Theory, Flute Lessons, Alto Sax Lesson, Aural Skills, Conducting Courses, and Performance Series (more instrument lessons coming soon!). In addition, a new, fun series will be featuring soon, depicting my adventures repairing a flute I bought from eBay.

The Musician's Addition's Channel is doing great and it's growing every day with more views and subscribers. Questions and requests are taken seriously and are answered and/or commented on in a timely manner. The exchange between student and teacher is imperative in the learning process.
One music piece that inspired you to be a musician?
To name one musical piece that inspired me to become a musician is difficult. If I was around music, it was inspirational to me. Reflecting on my elementary years, remembering the fun and feelings I had being in from choir and playing the instruments was definitely an indication music would play a large role in my life. Music is in my blood and feels like home. As a musician, all music inspires me.

However, looking back, there was a time in school I wanted to quit the band. My dad knew it wasn't the best decision for me. He took me to the Air Force Acapella Choir to encourage me to stay with the music program. The whole time he kept nudging me and saying, "This would sound great with a flute." I don't think he knew what the term 'acapella' meant (Ha). I agreed the flute would sound great, stayed with the band, and I'm glad he took me.

There is a piece today that comes to mind, which inspires me to become a better musician. The piece is long and beautiful. It's called Silva Fantasy composed by Eugene Magalif. When I listen to it, I get lost and become one with the music.
Who or what is your biggest influence?
My biggest influence is my old high school band teacher, Ms. G. She made me feel confident about playing music, but still challenged me. Ms. G opened up many doors for me and guided me through some wonderful opportunities. She was the catalyst for exposing my true potential as a musician. Ms. G was a wonderful person, a great teacher, a mentor, and most importantly, a friend. She always believed in me, and though I haven't seen her since, I know she's still cheering me on.
Any habits that help you stay Inspired and Creative?
Learning is a way of life for me. I am always learning about something or other. There is no way inspiration and creativity cannot be a part of life when there is a love for learning. I am still taking classes, even though I'm no longer in school. Currently, I am enrolled in a class learning music composition and beatbox fluting; it is very exciting and hopefully will inspire others about the flute.
The flute has the reputation of playing only classical music; however, it has so much more to offer. Flute is my passion, as it can play all kinds of musical genres and styles.
Tell us a bit about your workflow when making music?
When it comes to my workflow in regards to music - everything is done strategically and planned. I'm very organized and get things done. It starts off with choosing a piece of music. Then if needed, other players (I usually do duets, and sometimes trios), have to be contacted to check availability. Once the players are in place, the parts are assigned. We love themes, such as Halloween, Christmas, Disney, and so much more, even coordinating our outfits!
I usually put my music into MuseCore, a software to create sheet music, to create a practice-along with the metronome, to make sure my part is in beat. We all record our parts. Finally, the video is edited together, and our audio is aligned. This procedure takes much expertise and partnering with an independent recording studio, DAPlyfe Records, is a great help; this recording studio mixes and masters our Performance Series.

All the lessons are planned way out in advance, usually shot in bulk, edited, and scheduled out. I don't want any lessons or steps missed. Hopefully, everyone is practising every day and following the lessons; the flow is important. As you can see, I am very busy, however, totally enjoying it all.
One musical instrument you have special feelings for?
My love is for all instruments, but the one that holds a special place in my heart is, of course, the flute, particularly my first flute. My mom bought it at a yard sale for $75. I was having a hard time learning. My flute did not sound good. Later on, I found out my flute was trashed; it needed an overhaul. It took the flute tech an entire year to fix it. With the amount we spent on it, we could have gotten a brand-new flute.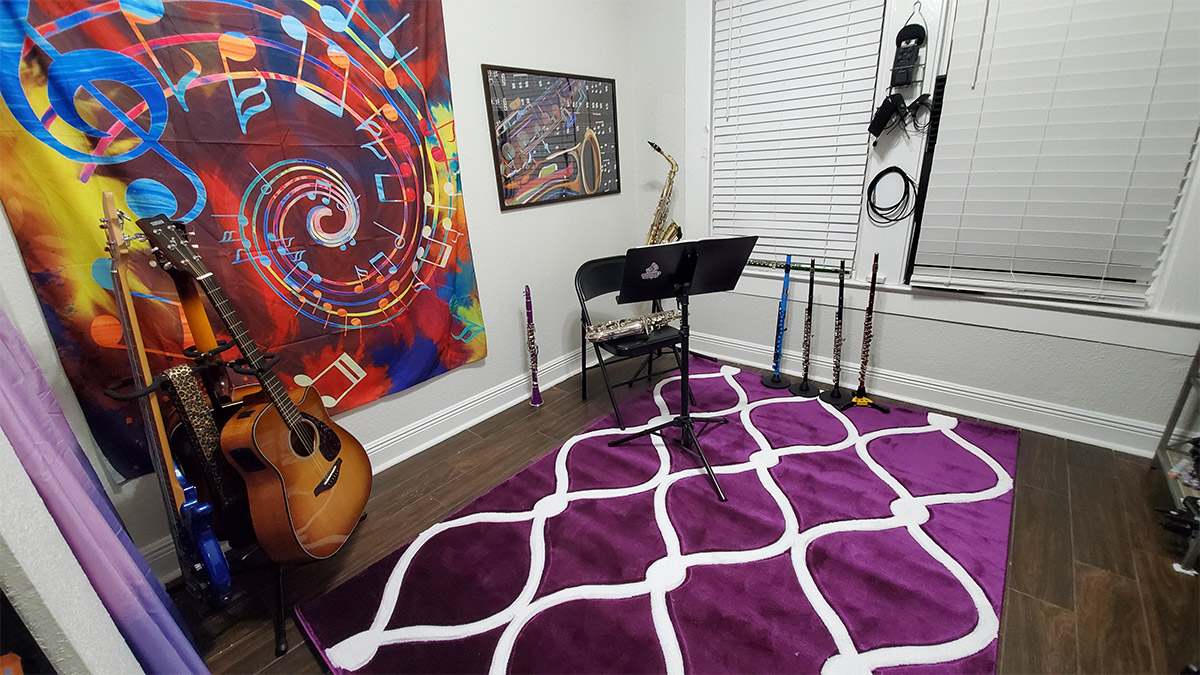 What does the future hold for Reesa Myers in the music industry?
The music industry holds great things for me! And I hold great things for the music industry. Even though I enjoy performing, my main focus is sharing and teaching knowledge and joy of music to others. I believe every person should have the opportunity to learn music, regardless of cost, experience, or time —my channel literally, is accessible to all.
Big and exciting events are coming: In the works are online music courses. These courses will offer music theory, aural skills, and all instrument lessons, and later on, songwriting, composition, and other music-related courses will be included. Now here's where our lessons will be unique: They are video lessons, similar to the YouTube lessons we currently have, but they'll be interactive video lessons! Within this platform, the student can learn and understand more. And of course, have more fun in the process.

What makes my channel and courses desirable is you can learn at your own pace and your own time, even if you are a night owl or an early bird. You can also take as many lessons as you want.

Feeling such appreciation for living out my passions, I feel it is important to give back. I'm working on an instrument donation program to help get instruments into the hands of kids who cannot afford them. Long story, kinda short – My desire and determination to give the opportunity to bring music to everyone and share in the joy of music is unwavering—I know this goal will be achieved.
'Like and Follow' Musician's Addition on Facebook, Instagram, or YouTube to view lessons, performances, and upcoming events.