Professional Bass player, Performer and Educator, Currently from Alberta, Canada, David Robinson is this month ToneGym Hero!
Who are you?
My name is David Robinson, and I live in Alberta, Canada, with my lovely supportive wife and daughter. I am a professional bass player who also works in multiple other aspects of the music industry.
I started piano lessons at a young age, and I often frustrated my teachers because I would learn things by ear and neglect the written music they wanted me to work on. I began to learn electric bass as a teenager and attended a university Jazz Performance program on electric bass in 2007. About five years ago, I decided to learn the double bass in jazz and classical idioms.
I have since played in many different musical situations including big bands, musical theatre, small orchestra, cover bands, choral accompaniment, and even performed in a concerto for orchestra and electric bass. In the last few years, I have completed a Bachelor of Music degree and branched out into mobile recording and production, live sound, composition, online lessons, clinics, theory and ear training tutoring, and music copyist work. Perhaps the most exciting new endeavour in my life though is becoming a father to a little girl who is now almost two years old!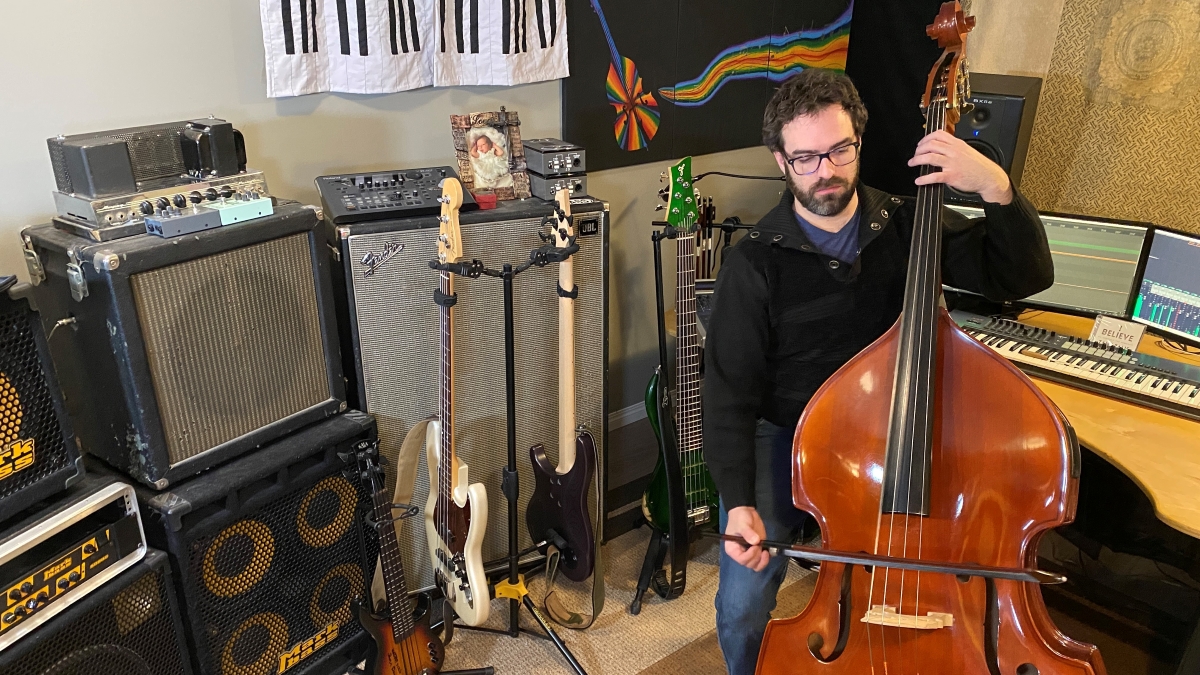 Tell us one interesting fact about yourself.
For years I was a poor sight-reader. When I began learning the double bass, the methodical approach to fingering and position I was learning on that instrument led to a game-changing improvement in my reading ability. I then wrote an article about it published in the bass column in an issue of Canadian Musician Magazine.
What is your favourite ToneGym feature?
I really enjoy the stats tracking and the social aspect of ToneGym. There is lots of good ear training software available, but what sets ToneGym apart is how it involves a community in the acquisition of musical skills. This aspect of the site helps to maintain my motivation to continue improving my aural skills. I also really enjoy interacting with and helping/learning from others in this community.
One music piece that inspired you to be a musician?
This one is tough because there are so many! When I was a teenager, a teacher I had lent me a CD called Rhythm'n Jazz by the great French Canadian bass player Alain Caron. The incredible virtuosity and precision in this music really raised the bar for me and gave me something to aspire to.
I would be remiss if I did not mention the great bass player Victor Wooten here. I have studied his music more than any other, and have learned many of his solo bass pieces. His music has probably shaped my playing more than any other. I learned Classical Thump in my final year of high school and performed it at a talent show; that event was a turning point for me because it was then that I decided that music was something I wanted to do seriously.
Who or what is your biggest influence?
There are many people who I would mention here because I can honestly say that nothing I have accomplished in my career has been done without the guidance, support, and faith of other people. I believe we thrive in relationship and community, and this has certainly been my experience.
But to choose one: John Taylor, my bass teacher in the Jazz Performance program I attended. In addition to being a top-level jazz bass player, he was also a full member of the Edmonton Symphony Orchestra for many years. His versatility and high-level ability across very diverse musical gigs demonstrated to me that the musical world need not be segregated and that a musician can successfully do many different things. His example has caused me to say 'yes' to many opportunities that I may have otherwise decided I was not good enough to take advantage of.
Any habits that help you stay Inspired and Creative?
One of the challenges of wearing so many different music-related hats is that I constantly shift gears between recording and mixing, writing music, practising my instrument, making scores, and any number of other things. I do try to carve out specific times in my schedule to work on certain things, but the reality more often than not is that my creativity is often pressured to fruition by a deadline.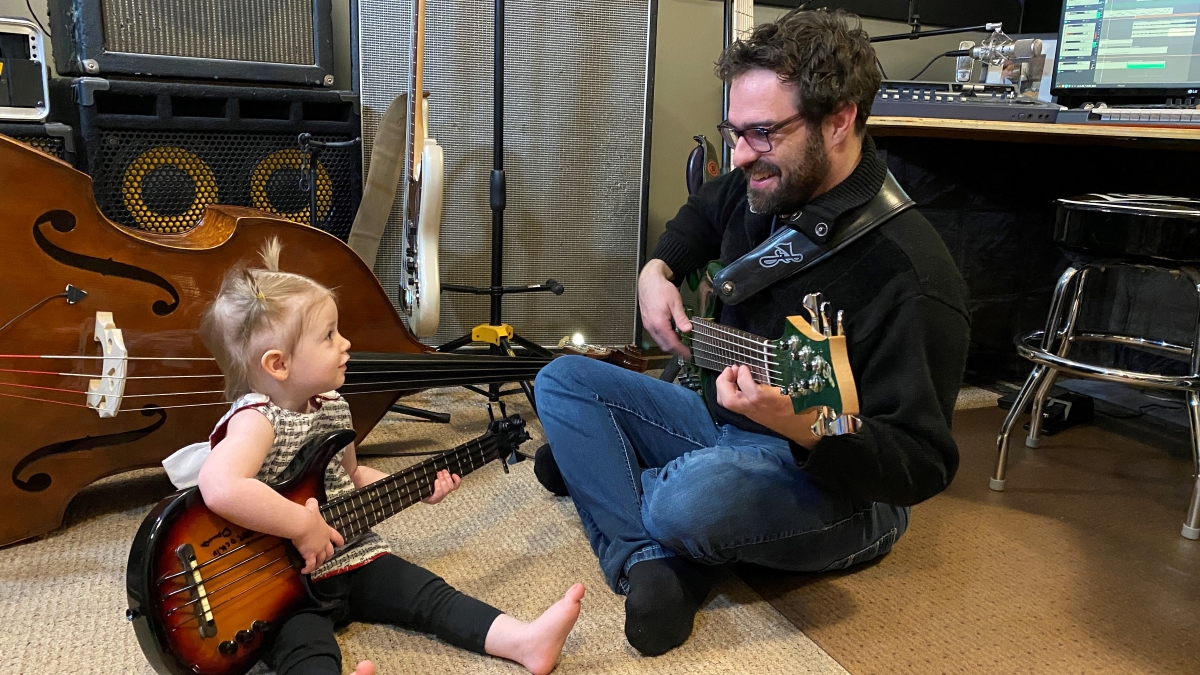 This may sound bad, but the accomplishments that I am most proud of were almost universally completed under some time pressure. Creativity takes energy, and sometimes a deadline is a helpful push to keep working on something that may have otherwise ended up neglected. I realize this may not work for everybody, but it does seem to be how things go for me!
Tell us a bit about your workflow when making music?
Because I do so many different things, my workflow is more organic than structured. For example, when I was writing my concertino for electric bass and orchestra, I would have an idea for a portion of the piece in my mind that I would write down. I would then spend time connecting it to the already written material. At that point, I would listen to the whole piece a few times and get a new idea of what it sounds like into my mind. This is an essential part of the process for me, as having the partial piece fresh in my head will allow my mind to work on it as I go about other tasks in my day.
Through this process, the next part of the music is often at hand the next day when I sit down to work on it more; sometimes I will even get up in the middle of the night as an idea strikes me. The key here is to consistently do little work on a project and allow my mind time to process and come up with the next idea. This concept applies to most things in life, in my opinion. The most important aspect of workflow for me is to see whatever the most accessible next step in a project is and take it. That is how I make progress.
The musical instrument you have special feelings for?
I am not someone who buys and sells many instruments, so every instrument I have is in my possession for significant reasons; that said, my green F-Bass stands out as my most cherished. I have had this bass for about twelve years. It was handmade in Ontario, Canada by F-Bass, and is one of the finest instruments I have ever played. It has been with me through many different (and some difficult) seasons of my life and has always been a source of joy when I pick it up and play it.
There is something about a carefully and artistically made 'thing' made to work beautifully and last a lifetime that is wonderfully counter to the 'throw-away' culture so prevalent in much of the world. While I believe that the music is in the musician and not in the instrument, this bass allows me to express myself more freely than any other… *sniff*
What does the future hold for David Robinson in the music industry?
My family and I plan to move back to the town where I grew up and open a recording studio/retreat, where I will continue to build my recording and production business. One advantage of the time we live in is technology's ability to connect us in ways that were never before conceivable.
In addition to local projects, I look forward to working with musicians all over the world to create some very interesting and exciting music! I feel very privileged to have the opportunity to pursue a career in music, and I intend to do what I can to help others do the same. We are all stronger in working together!
If you want to follow David Robinson work, you can do so over on his Site and Facebook, Youtube and Twitter.