Psychologist, Hypnotherapist, and a Creator of music for relaxation, Currently from Hamburg, Germany. Rabea Arps is this month's ToneGym Hero!
Who are you, and Where are you from?
My name is Rabea Arps. I am a psychologist and hypnotherapist, helping people with anxiety, phobias, distress, traumatic experiences - all kinds of emotional imbalances. I live close to Hamburg in the very north of Germany and just turned 50 this summer.
How did you get into music?
Lessons started actually quite early on a variety of instruments. I recall playing Christmas songs on a melodica. When I was in primary school, my older brother got a keyboard (a red instrument with some knobs for chords). He wasn´t that interested, but I was! I had music lessons and soon began playing what was very popular then: a Home Organ with two manuals, pedals, faders, sounds, beats… Music lessons constantly went on, until, after a few years- nothing new happened. Finding new teachers might have been a solution, offering new styles and techniques or moving on to the piano with all its possibilities. But none of that happened, and while I struggled through High School and those strange teenage years, the Organ slowly gathered dust.
Time Jump…
Thirty years later, in 2020, in a session with a patient, I listened to spherical music that I often use as an acoustic background. And I suddenly wondered if I could arrange something like that myself.
So I started all over, got a keyboard, chose a DAW, and spent hours on end watching online tutorials while working on the first tracks. What sped up the whole thing was the really good decision to join SoundGym to train my ears and then, about a year later ToneGym to further work on skills and fill the theoretical gaps. Otherwise, I might have given up the whole idea again.
What do you like to do for fun outside of working on music?
Taking walks with my two dogs, gardening, reading, meeting friends and sports (going to the gym, running and yoga).
What's your most useless skill or talent?
I am pretty good at doing Jigsaw Puzzles. I guess it helps my mind to sort things out, even though time seems to go by without really being "productive".
What inspires you to keep making music?
I am generally fascinated by the variety of genres, sounds and effects music can have on people. Music can change a person´s mood in the blink of an eye. It can take you back in time. While working with my patients, I intentionally choose soothing or spherical music to support the process of catharsis.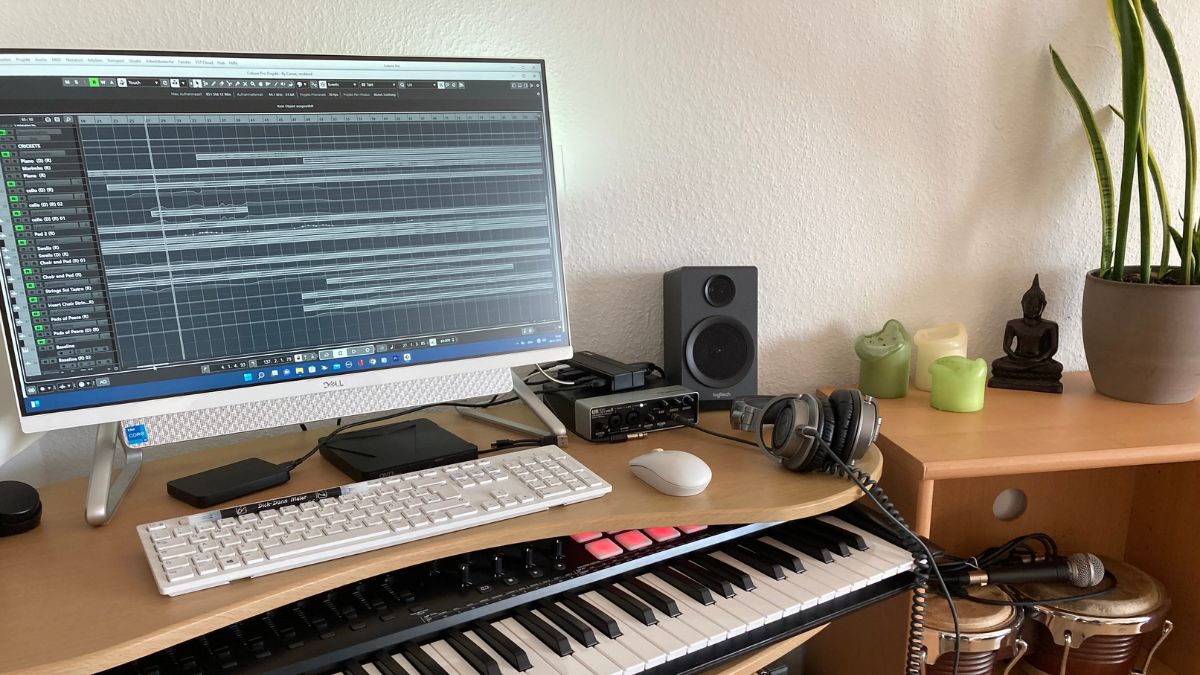 The last few years have been very challenging for lots of people in many ways. My incentive for making and releasing music on YouTube and streaming services is to spread a little distraction, comfort, relaxation, or relief. That´s what keeps me going.
While there is still so much left to learn and discover about music, I now feel that I am "on my way". What´s inspiring is the magic in the making.
If you could sit down to a session with any artist, who would it be?
That is a tough question, and many ideas popped up into my mind. But two artists remained: I would have loved to accompany Dan Gibson († 2006), the Canadian sound recordist, on one of his many trips into the wildlife. And since I am a huge fan of "Schiller" I would be very much interested in his process and secrets of creating those beats and his amazing synths and sound effects.
Any habits you have before starting a session?
While working on a piece, I focus only on the next step so I won´t get lost in the process. If new or additional ideas come up, I take quick notes and get back to them later. While being in a creative workflow, it is such a waste of time to search in libraries for that one specific ear candy or to struggle with a plugin or effect.
When I begin a new project, the procedure differs: at times, I already have basic ideas of what I want (structure, orchestration or fragments of a theme). And sometimes I just improvise and record tunes and progressions- mostly after sunset and "just for fun".
I guess, like anyone else around here, I hope to create music that people like to listen to. Something that is artistically and technically more than just "okay". To reduce ambition and the pressure that goes with it, I often remind myself of two things: "Don´t get it right, get it written." And: it is not likely, that the track I am working on right now, happens to be my best track EVER. Actually, that would be pretty sad, wouldn´t it?
What have you been working on lately?
I write and arrange instrumental ambient music, often combined with nature sounds or spherical soundscapes. It is mainly soothing music for relaxation, meditation, or hypnosis. Nothing beyond 72 bpm and seldom shorter than eight minutes, released on YouTube and streaming services.
If you could pick one, what would be the theme song of your life?
When I first came across Chill Out Music, I fell for it instantly, especially the "Cafe del Mar" compilations. I have been there a couple of times: at this beautiful Cafe on the Spanish island of Ibiza. The Mediterranean right in front of me, this kind of music drifting through the warm evening breeze as the sun sets slowly.
I chose this song because within the first two seconds- whoosh- I am right there, feeling free and easy. I hope you enjoy it, too
What's your favorite musical instrument?
Keyboard and synthesizer, probably because that´s what got me started so many years ago. And I like to sing- mostly while driving the car.
What's your favorite ToneGym feature?
I´m not so good at the rhythmic games, but I like Scale Spy. Games like Melodix and Chordelius are an interesting challenge, too. But my favorite is: Melody Jay. Until ToneGym, I just hoped I wasn´t terribly off key most of the time, but the results truly turned out to be a big surprise.
What does the future hold for Rabea Arps?
Well, I am always curious and open for new ideas. I would love to experiment with new gear, sounds and effects. I am interested in modular music as well. Sometimes I still think about taking classical piano lessons and I just discovered handpans.
If I had one wish though, it would be for a cozy house in the countryside with fast internet and lots of time.